29 09 2011 - Walk and photos - Great Cockup, Meal Fell, Little Sca Fell, Great Sca Fell and Knott with Paul D.
16 11 2010 - Walk and photos - Knott, Great Sca Fell, Little Sca Fell, Brae Fell, Lowthwaite Fell and Longlands Fell with Paul W.
Walk first completed 05 04 2002 with Richard. Our route took us via Carrock Fell, High Pike, Great Lingy Hill, Little Sca Fell and Great Sca Fell before we reached Knott with its disappointing summit cairn. It was beginning to get cold and windy as we descended towards Coomb Height. With legs like led only the thought of a well earned pint or two kept me going along the walk back along Swineside to the car.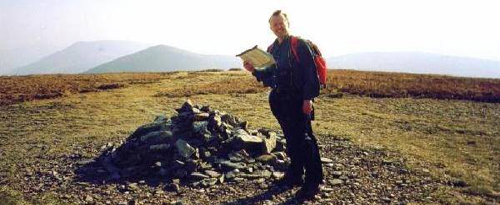 Richard at Knott's summit (05 04 2002)